OFFSHORE CHLORINATION
Tiaano® 0.2 Pt, an advanced offshore electrochlorination system, producing sodium hypochlorite by using sea water to prevent biological fouling in off shore applications. Tiaano® 0.2pt designed based on sodium hypochlorite requirements in kg per hour and the physical plant layout.
System Capacity
Typical marine system (offshore) throughput will range from 0.050 kg per hour for a small offshore cooling system to 12 kgs per hour for large platforms.
Application
Offshore Oil & Gas Exploration Drilling Rigs: Jack-up, Semi-submersible, Drill ship.
Offshore Oil & Gas Production Development: Gravity base, FPSO TLP, Semi-submersible.
Ships and Vessels: Oil tanker, naval fleet auxiliary, Supply boat, naval fleet ship, Ferry, Container ship, Cruise ship, Cargo carrier, Gas carrier, Barge.

Usage
Sodium hypochlorite, also known as "hypo", "bleach" or "liquid chlorine," is a powerful oxidant. It is used worldwide for prevention of...


Micro-fouling refers to a layer of slime over surface. On heat exchanger plates and tubes, micro-fouling can reduce heat transfer efficiency by as much as 25% and also accelerate corrosion. Periodic maintenance to clean the surfaces is required, creating downtime and increasing running costs.
Macro-fouling refers to barnacle and mussel growth. Inside the seawater pipes and cooling systems, macro-fouling can gradually restrict seawater flow and consequently reduce flow and heat transfer efficiencies. In extreme cases, pipes and valves can become completely blocked, resulting in equipment damage and major system shutdowns.
Hypochlorite continuous and shock dosing are used to effectively control micro and macro-fouling in seawater applications. In continuous dosing, a low level of chlorine is continually supplied. This protects against the majority of bio-fouling, but unfortunately certain macro organisms can become resistant to low level dosing. These macro organisms can be eliminated by shock dosing, where much higher levels of chlorine are applied for a short time at regular intervals.
Electrochlorination Benefits
Effective against macro and micro marine bio-fouling.
Continuous, automated process.
Avoids hazards, costs and handling associated with commercial hypochlorite.
Compact installation with flow-through piping.
Safe, low-voltage operation.
Long life, minimal maintenance.
Parts and Service
Supply of Spare parts...


Replacement cells.
Plant refurbishment and Retrofit of latest technology upgrade to older installations.
Service Contracts including Planned Preventative Maintenance.
Maintenance Work for Convenience.
Operation & Maintenance Training.
On-site Inspection & Survey.
Warranty part service.

System Standards
Tiaano® ECU Model
Available Cl2 per Hour
(Kgs) / Hr
Sea Water in M3
Minimum flow Rate
Treated with 0.5 ppm
Tiaano® ECU 0.05 Pt / CTE 0.05
0.05
1.5
100
Tiaano® ECU 0.05 Pt / CTE 0.10
0.10
1.5
200
Tiaano® ECU 0.05 Pt / CTE 0.20
0.20
1.5
400
Tiaano® ECU 0.05 Pt / CTE 0.50
0.50
5.7
1000
Tiaano® ECU 0.05 Pt / CTE 1.00
1.00
5.7
2000
Tiaano® ECU 0.05 Pt / CTE 2.00
2.00
5.7
4000
Tiaano® ECU 0.05 Pt / CTE 3.00
3.00
5.7
6000
Tiaano® ECU 0.05 Pt / CTE 4.00
4.00
5.7
8000
Tiaano® ECU 0.05 Pt / CTE 5.00
5.00
5.7
10000
Tiaano® ECU 0.05 Pt / CTE 6.00
6.00
5.7
20000

Note: Non standard Electro chlorinators will be designed, based on customer's specification.


Back to Chlorinators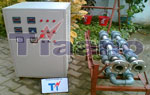 Titanium Tubular Electrochlorinator for ship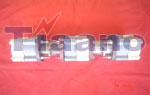 Platinized Titanium
Electrolyzer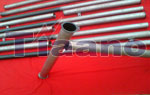 Replacement of Tubular Electrolyzer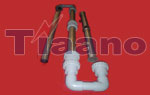 Electrochlorinator for
Offshore Platform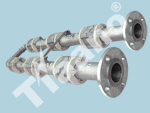 CTE Spec